Author: Brooks Greene, Senior Vice President/Chief Financial Officer, The Arc of Central Alabama
With Thanksgiving on the horizon, Enable Alabama is delighted to feature leaders in our local community who bring friends and families together, fostering supportive and welcoming spaces for all. On today's blog, get to know The Arc of Central Alabama and four of its super stars – each of whom save for disability-related expenses with Enable Alabama.
Ever since the temperatures dropped below 85 degrees, The Arc of Central Alabama has been buzzing with anticipation for the holidays. The thought of the upcoming holiday season brings visions of food, family, and festivities: who you'll share your favorite seasonal treat with, what to purchase for the perfect white elephant gift, or where you'll watch the Moon Pie, Peanut, or Peach drop to ring in the New Year.
Approximately 75% of the people served through The Arc of Central Alabama do not have active family in their lives, which makes the next few months tricky to navigate financially and emotionally. The reality is that the who, what, and where of the holidays suddenly becomes the same entity: The Arc of Central Alabama. Born from this need, we have the honor of becoming far more than the sum of our Residential, Employment, and Day Programs, far more than a service provider -- we are family.
A few of our family members wished to share their excitement for the upcoming season with you:
Terry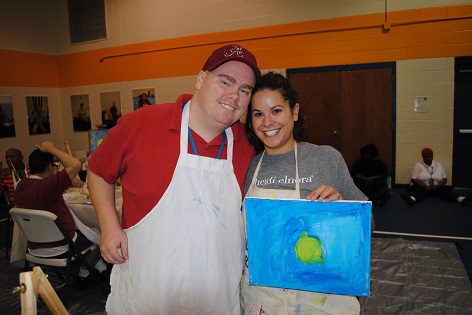 Terry is newly employed grocery bagger at Publix, where he uses his skills from working at the United Way Food Bank to bag groceries and meet new people. He is 26 years old and is served through the Day, Employment, and Residential Programs of The Arc of Central Alabama. For Halloween this year, Terry dressed up as The Arc of Central Alabama's very own CEO, Chris Stewart, for the second year in a row! After Thanksgiving, he's hoping for some new music by his favorite rap artists for Christmas, along with some fresh new kicks.
Terry is a food man. His favorite thing about Publix? Their rotisserie chicken. His favorite thing about Thanksgiving? Turkey AND ham -- do not make him choose! He told us his ideal Thanksgiving would just be eating turkey and ham with his mentor and friend, Chris Stewart. Yes, the very guy he dressed up as for Halloween. He told us that he is thankful for Jesus, Chris Stewart, and his friends -- in that order.
Pete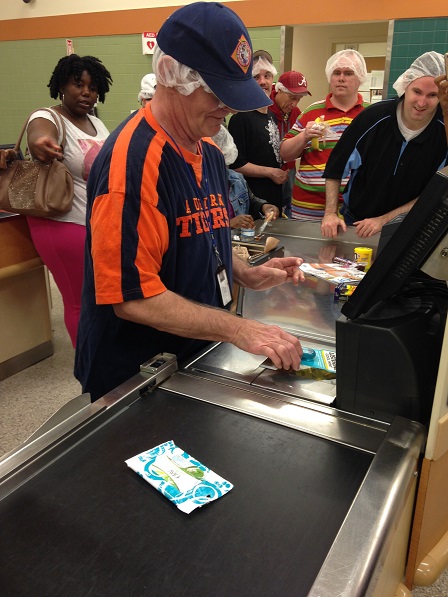 Our local social media celebrity, #PeteOnTheStreet, is served through the Employment and Residential Programs of The Arc of Central Alabama. He is 62 years old and lives with some of his friends from his Pre-vocational Class. Pete's dream job is to be a news anchor or to join Terry as a bagger at the grocery store. He spooked us all as a vampire for Halloween -- but intentionally not too scary, he assured us. Pete told us to tell Santa that all he wants are new clothes for Christmas!
Pete's favorite thing about Thanksgiving is the food! He's been daydreaming about turkey, ham, dressing, and every single dessert he's ever tried in preparation for the big day. He told us that he is thankful for The Arc of Central Alabama, his house, and his buddy Terry. He plans to spend Thanksgiving with his sister and to eat A LOT!
Mary and Sheila
Most days at our Crestwood campus, you'll be greeted by either Mary or Sheila who are coworkers, BFFs, and housemates. Mary is 63 years old, and Sheila is 39. They are both served through Day, Employment, and Residential Programs of The Arc of Central Alabama. This year Miss Mary dressed up as a leopard for Halloween, accompanied by Sheila as a nurse -- a very unlikely pair of greeters! We've been asked to inform Santa that Mary would like an Alabama sweatshirt (roll tide!) and a Christmas CD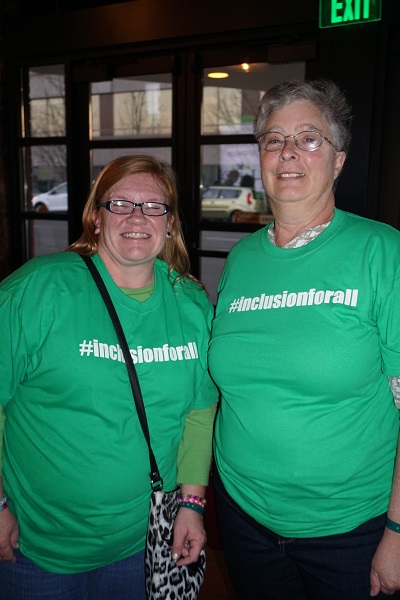 to get into the holiday spirit, and Sheila is in dire need of new Whitney Houston music, nail polish, and a basketball.
Mary is very excited for Thanksgiving because she will be traveling to the beach with her family! Her Thanksgiving will be full of shopping, lounging on the beach or in the heated pool, and enjoying her time off from work. She is very thankful for the opportunity to be with her family and looks forward to her Thanksgiving trip to the beach every year!
Sheila is excited for two things this year: her ham and her people! Her favorite part of any holiday is being with her loved ones, so Thanksgiving is right up her alley. Sheila is thankful for her friends, family, and both of her jobs -- one at The Arc of Central Alabama and one at Publix. She's not sure what she will be doing for Thanksgiving this year, but she's going to find herself some ham and surround herself with people she cares about no matter what.
Pete, Terry, Mary, and Sheila all utilize the Enable Savings Plan Alabama, which allows them to save money for future disability-related expenses without impacting eligibility for resource-based benefits. Prior to this initiative, they could only have up to $2,000 in assets to remain eligible for Social Security and Medicaid benefits. Through the advocacy of The Arc of Central Alabama, the former Executive Director of The Arc of Alabama Tom Holmes, and other Alabama advocates who fought for the Enable Savings Plan Alabama, they can now save upwards of $100,000 -- enough to put a down payment on a house, to purchase a car, to provide the financial leverage for increased independence.
So as we gear up for both the "colder" weather and holiday season, we here at The Arc of Central Alabama want to express our thanks, too. We are thankful for the people we are so privileged to serve every day -- for their joys, their hopes, their independence. We are thankful for those who have fought and are fighting for disability equity and rights here in Alabama and all over the globe, and we are thankful for all of the progress we've made and for our plans to keep fighting for #InclusionForAll.
We are thankful for programs like the Enable Savings Plan Alabama, as well as the direct support staff, advocates, service providers, community members, and policy makers who continue to help people with intellectual and developmental disabilities live the most independent lives possible.
From our family to yours: Happy holidays!